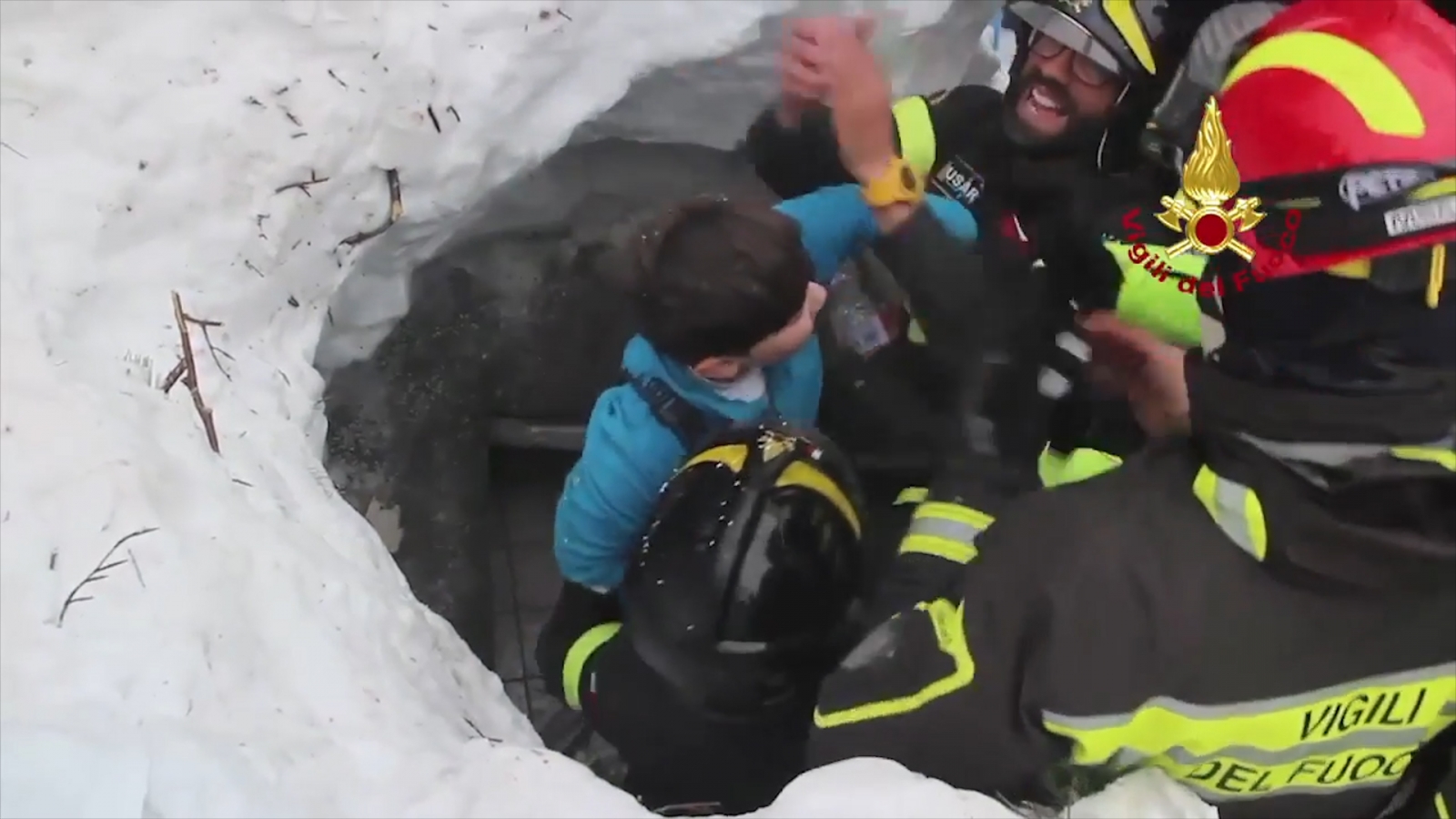 Six people including a young boy were found alive on Friday two days after being buried under an avalanche that flattened a mountain hotel in central Italy, a national fire brigade official said. More than 30 people were in the luxury Hotel Rigopiano when the wall of snow slammed into it on Wednesday afternoon, officials said, spreading debris across the valley floor.
"Two survivors have been pulled out, and we are speaking to the other four," said Luca Cari told Reuters by phone from the scene of the disaster in the Abruzzo region.
"It's hard work. We're having to cut through the roof to get to them," he said, adding that it appeared that they had been trapped in a bedroom of the four-storey building for about 42 hours.
The Civil Protection agency earlier said eight survivors had been located. Firefighters clapped and cheered after they pulled a young boy wearing a blue sweatshirt from a hole that they had cut in the submerged roof with a power saw, a video showed.
A little later the boy's mother was brought out. Both were strapped into stretchers so they could be flown to hospital by helicopter. Cari said they appeared to be in good condition.
"It's a miracle," said Senator Federica Chiavaroli, a deputy justice minister who was at the rescue staging area. "Rescuers have never given up hope and they never stopped believing. Now their hope has been reinvigorated."
Officials said two bodies had been removed from the site, while Italian media said two more corpses had been located. The disaster struck during a driving snowstorm, hours after four earthquakes with a magnitude above 5 rattled the area. As much as 5 meters (16 ft) of snow covered much of what was left of the hotel, said Walter Milan, a member of the Alpine Rescue service at the scene. Only sections of the spa and swimming area were intact, he said.
Two men outside the hotel managed to escape the avalanche and raise the alarm. An investigation into the tragedy has been opened by a court in Pescara amid accusations that the emergency response was slow. The first rescuers arrived amid a snow storm on skis early on Thursday morning, some 11 hours after the avalanche.